Who's afraid of the big bad wolf, the big bad wolf, the big bad wolf?
Posts Tagged Carla Bruni
Peter Allen, a journalist I am keeping a close eye on, appears to be the "man in France" for the British press. In addition to the lack of grasp of military history and overuse of Babelfish which is something of common feature of the modern hack, Allen also seems to have something of an obsession with French President Nicolas Sarkozy and his wife Carla Bruni. Indeed on the resource journalisted.com, which lists all articles by those writing for the UK press, Allen's summary states that he has written 'more about Sarkozy than anyone else' and 'a lot about Sarkozy' in the last month. In addition to informing the world about the threat of a second Normandy invasion by fans of panzerace.net, of course.
This week Allen has been particularly productive – it must be the weather or something. The stories from the continent range from the dramatic to the bizarre, and yes – there is among them a piece on Carla.
One of the articles covers a story that is sure to draw political lines across Europe – Sarkozy's statement on the Islamic headdress, the Burqa.
"The burqa is not a sign of religion, it is a sign of subservience. It will not be welcome on the territory of the French republic."
Bold words indeed.
I would for very obvious reasons choose not to trust Allen's translation of Sarkozy's actual statement, but it is fairly clear what the gist is. What is absolutely certain is that the French President has done a rare thing for an elected European leader – he has finally stood up and jabbed a finger back in the eye of what is a growing problem on this continent. Yes, some may argue that women walking around in costumes that make them look like Daleks may be a minor issue, but it is simply the thin end of the wedge.
One has to wonder what the clowns in Labour Party Towers think of all this – after all, Sarko has made a statement little different from that of Dutch politician and Geert Wilders, who was turned around at Heathrow back in February like some common criminal. What with his alleged snub of the Queen over the D-Day commemorations, Sarko is increasing his chances of being the next Euro politician to be shown the door by our otherwise very welcoming immigration officers.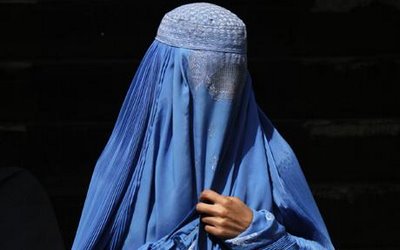 Exterminate! Exterminate! Exterminaaaaaaaaaate!
Sarkozy's statement was more than likely made in response to that made by US President Barack Obama last week about "the freedom to bare arms (or not, in the case of certain Islamic-fundi types) – which is all the more admirable as it would have been far easier to simply revert to type and crawl further up Obama's behind.
I am beginning to quite like Baruch Hussein – he seems to be at one with the people and has proven himself to be a master fly-swatter – but he would do well not to meddle in what are European social affairs. He may be more well-travelled and urbane that your average American politician, but he knows little of what actually goes on in the streets of many European cities; it would be the same as a European leader lecturing him on how to deal with poverty and crime in Compton and Watts.
Moving away from this and onto migration of another sort, Allen also wrote last week about a plan currently underway in France to prevent the threat of a dangerous breed of mosquitoes making their way across the channel – according to this article, there has been a mass chemical carpet-bombing of wide swathes of Northern France and Western Belgium.
Perhaps it hasn't struck those concerned – or Peter Allen – that these chemicals might actually be better employed on another sort of parasite, that of the two-legged variety. I am not talking about the massed armies of marauding illegal immigrants, but their army of crusty do-gooder protectors apparently making their way towards Calais to demand an end to border controls between France and Britain. Some people should get a job.
And then we have the Carla story.
Barack Obama, burqa, Calais, Carla Bruni, France, Geert Wilders, mosquitoes, Nicolas Sarkozy, panzerace.net, Peter Allen