Although the Daily Mail continues to publishly frequent Nazi-related stories almost without fail, I have to admit that I have got rather bored of them. It's just a case of the same old Scheisse, really: if it's not some comical old wives' tale about Josef Mengele's long lost brother being found living among primitive tribes in Borneo, then it's some story of some spectacular saluting dog called Adolf. Or something just as ridiculous/pointless/nonsensical/insert appropriate term here.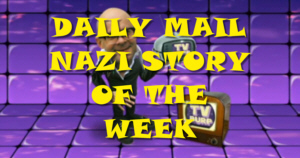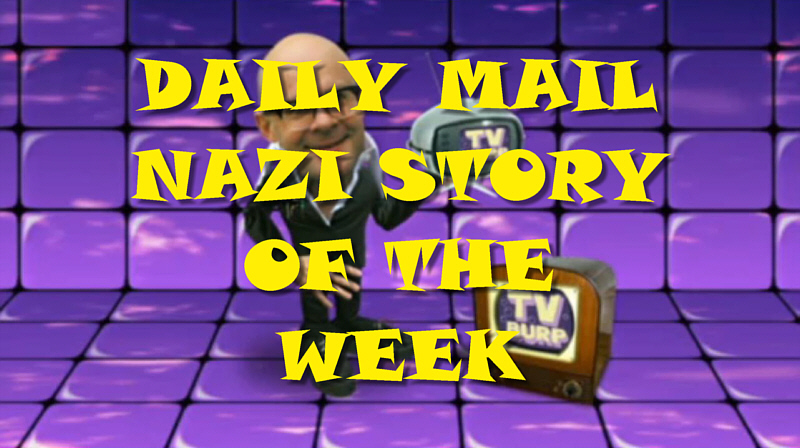 I thought I'd get back on track – though one can hardly call it a Story of the Week feature anymore – with this one, not so much for the story itself but for the utterly ridiculous captions appended to the photographs by some braindead primate at Daily Mail towers. For that, read the work experience student who is being paid peanuts to serve up hot drinks and edit the DM's plethora of pointless online non-news articles.
Sex and the stormtroopers: How French women fell for the Nazi invaders during the Second World War
Well, I suppose the lurid-sounding title says it all; I have to wonder how long they took to think up that one.
But let me not waste time by digressing.
I am not going to bother commenting on the story itself: yet another work about a subject that has been completely whipped to death in the usual systematically hysterical fashion. No, my gripe is with the captions to the three main photographs: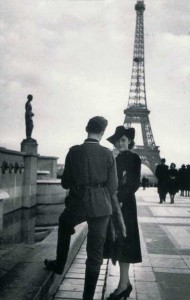 This photograph is captioned Dangerous liaisons: A French woman poses with a Nazi officer at the Eiffel Tower during the period of German occupation in the Second World War.
OK, I'm sure that the structure in the Hintergrund is actually the Eiffel Tower and we'll choose to run with the idea that the woman is French, but there's no proof whatsoever that the man is a Nazi (we can only see the back of him, so cannot determine whether he is the owner of an NSDAP membership pin) and he is certainly not an officer but an NCO, something any casual military uniform expert can tell by observing the silver tresse on the base of his collar. The cut of the uniform also suggests that he is an NCO – officers' uniforms were usually tailored to fit, and had far cleaner lines.
So, probably not a Nazi, and certainly not an officer… Next…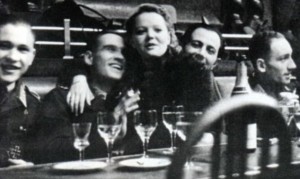 This one is captioned: Festival atmosphere: The previously unpublished photographs show French woman cavorting with members of Hitler's SS in bars and cabarets.
While this happy little crowd are having a few glasses of vin blanc, they are hardly "cavorting" – but let's not split too many hairs here and get to the point. The caption suggests that these soldiers are "Hitler's SS" – hmm, funny – I have never seen SS men wearing what looks to be Luftwaffe collar patches before, unless this lot are a special branch of flying SS men. Nah, they just look like a bunch of ordinary Luftwaffe NCOs, who were usually pretty successful with the local Mademoiselles on account of promising to take them up to heaven and back in their flying machines… Woof! Woof!
Sadly, it's probably not even that glamorous – as NCOs these guys probably spent most of their time wading around in grease and engine parts while their more illustrious officer colleagues were going tete-a-tete with Dougie Bader and company over the Channel.
You can tell I am starting to enjoy this now, and it's a shame that there is only one more photograph to look at: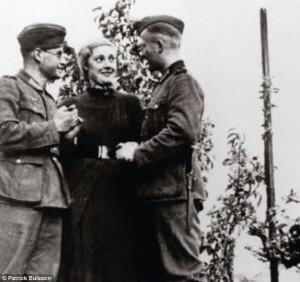 This interesting image carries the legend Murky past: The French struggle come to terms with the fact many women had intimate relationships with Nazi officers during the Second World War – though once again a cursory glance at the uniforms of these two soldiers clearly tells us that they are ordinary Army personnel and clearly not officers, Nazi or otherwise.
With this one I even have my doubts as to whether the woman is even French: she looks German to me, and is probably a nursing auxiliary or even one of the many secretaries that were given a foreign posting.
To think that people get paid for writing this rot…