It's incredibly hard keeping up with the Daily Mail and their stories about Adolf Hitler and the Nazis. I am convinced that if I were to analyse every story like that over the last couple of years alone, I could write a pretty hefty book about it. Of course, the book would itself generate its very own lurid Daily Mail headline – it's enough to make one's head implode.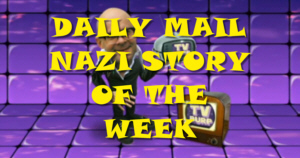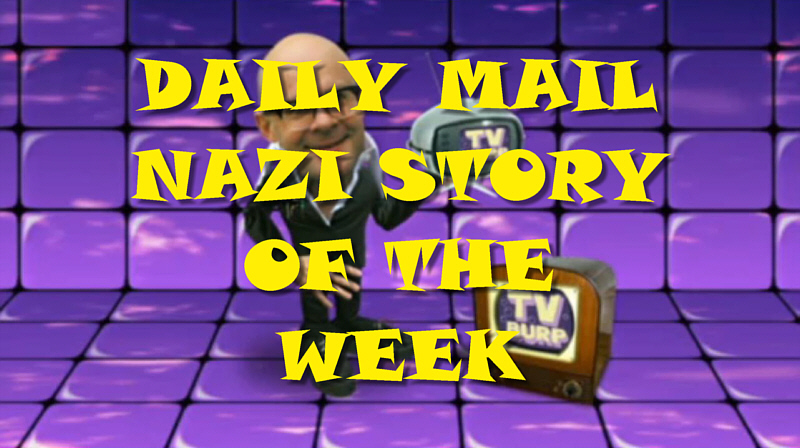 There were a number of Nazi/Hitler related stories this week, but the one that really caught my eye was the piece on a number of sketches supposedly produced by a certain Roman Zenzinger during the war. Now, I have been reading books on this period for the best part of three decades now, and not once have I encountered Herr Zenzinger – yet here was the Daily Mail calling this individual one of "Hitler's official artists". Hmm, well. Maybe he was as much the Führer's official artist as Rochus Misch was his personal bodyguard.
Or something.
At best, Herr Zenzinger was an official war artist. At worst, he was a regular soldier who did a little doodling in between burning Ukrainian villages and killing Jews.
Or something.
The genuine work of a German amateur artist, or the creation of some British amateur forger with nothing better to do with his time? I wonder.
Let us have look at the two sketches of the motorcycle and sidecar. Can you spot anything? Well, if you're British, probably not. But if you're German – where they drive on the "wrong" side of the road – you'd immediately notice that the sidecar is on the left, when it should be on the right – that's towards the kerb rather than the middle of the road.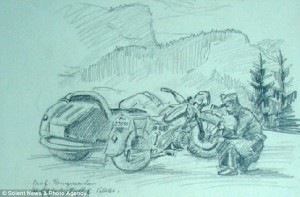 How could this be? Might the artist have stumbled upon the special suicide section of the Wehrmacht's motorcycle battalion, whose most daring stunt was to veer into the opposite lane when a lorry was coming around a tight bend in the opposite direction? Or might he have encountered their special motorised jousting section, where the sidecars were deliberately placed on the wrong side so that combatants could meet each other head on at speed armed with long pointy lances with little Hakenkreuzen dangling from the ends?
Then there is the third sketch, which shows a rather serious-looking Landser handling a Model Model 24 Stielhandgranate, better known to all of us on this side of the Channel as the "stick grenade". I have no idea what this soldier is supposed to be doing, but he sure as hell isn't looking to throw the thing.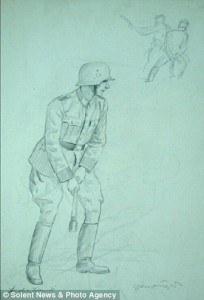 Or maybe this "artist" was not only lucky enough to encounter the Wehrmacht's most secret and yet most celebrated motorised jousting club, he also got to see members of their secret cricket club too. The batsman's stance is absolutely perfect, and he looks poised to play the sort of firm front-foot defensive stroke of which good old Geoffrey Boycott would be proud. Showeeng the makers name. I don't have the foggiest idea what the two midwicket fielders are up to though.
The fellow is even wearing a helmet – long before Aussie Graeme Yallop became the first player to wear one in a test match in the late 1970s.
Those bloody Jairmans eh? Always thinking of the best ideas. Vorsprung durch Technik, usw.
On the other hand, by sheer coincidence another Daily Mail story involving Nazis and motorbikes contained something far more interesting. Namely Dr. Who actress Karen Gillan in a little miniskirt on a motorbike. I know I am risking a cuffing from the she-wolf, but… Oh yes.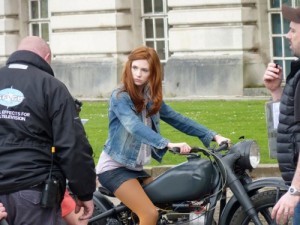 The Nazis, cricket, Model 24 Stielhandgranaten and a gorgeous redhead in a short skirt, all in one compact post. Marvellous, eh?