I thought we were going to finally be able to have a week pass without a photo of the Führer in the Daily Mail… Monday, Tuesday… Nothing. Wednesday… Nada.
I guess I was then waiting for the April Fool's Hitler story on Thursday – possibly the one about his running a vegetarian restaurant with Josef Mengele in a small Chilean village some sixty miles due south of the appropriately-named town of Concepción.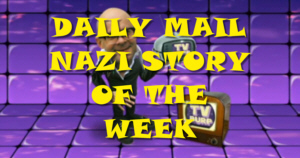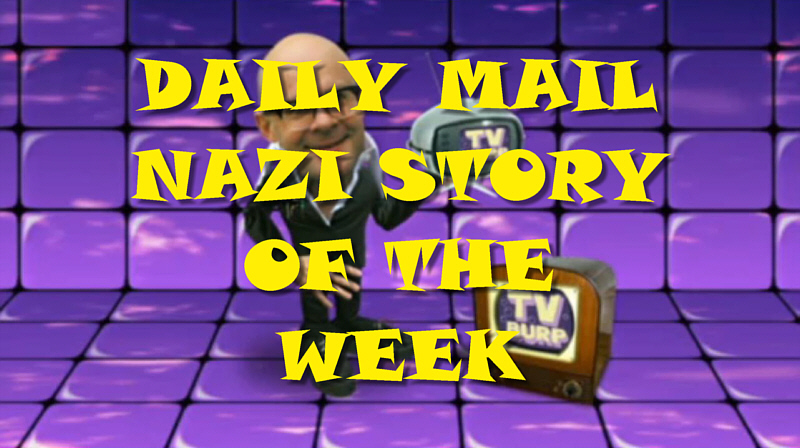 Alas, what arrived was a something-about-nothing story concerning the possible reuse of building materials from Hitler's former mountain retreat, the Berghof.
One really has to wonder what the big deal is about – after all, the Soviet war memorial that stands stands high in the former eastern sector of Berlin was made from similar materials that had previously been part of Hitler's Reich Chancellery, and as far as I can see there is little or no difference between this and the building of a chapel using materials from what may have once been Hitler's mountain holiday home.
The Berghof was bombed by Allied aircraft in April 1945, and then was set on fire by retreating troops less than a month later. It was finally razed to the ground in 1952 by authorities who feared it may become a shrine for Nazi revivalists – and perhaps rightly so, though it would have undoubtedly been interesting today to see the house that had been featured in a 1938 edition of Homes and Gardens magazine, the place where Hitler entertained the likes of Anthony Eden, Lloyd George, the Duke and Duchess of Windsor and the Aga Khan.
Given that marble and granite are robust and valuable materials it would have been churlish to dump the rubble into the nearest lake. It is very likely that this material would have been used to restore and repair many of the properties in the surrounding area that had suffered damage; do those who want the "Nazi" chapel pulled down also wish to conduct an inspection of every single building in the area? If any of these properties were found to be sitting on "Hitler's rocks", should they also be demolished? It's just absurd.
I can hardly see crowds of neo-Nazis making their way to the chapel to worship a few blocks of rock; the place would already have been on their radar anyway, given that the Obersalzberg and the town of Berchtesgaden is indelibly associated with Hitler and the many others in the Nazi leadership that had houses built there before the Second World War. A swastika carved into a wooden beam by some lone knucklehead is neither here nor there; one can find worse on any park bench in Britain.
It also shouldn't be forgotten that the Kehlsteinhaus or Eagle's Nest, built for Hitler in 1938, is now used by the Bavarian state to attract armies of tourists – and a beautiful place it is too.
Having waited the best part of a week for a headline containing either "Nazis" or "Hitler", it shouldn't be surprising that this story was quickly followed by another that was even sillier – this time based not even on a mistranslated foreign report or the work of a lazy journalist "discovering" otherwise well-established facts, but an television documentary show on Nazi "wonder weapons". I can imagine it right now – Daily Mail journalist is in his hotel in California, lazily flicking through the channels after a busy day chasing some two-bob nonentity in the hope of getting some "bikini body" story. He then finds what is yet another CGI-driven documentary on fantastic Nazi weapons… Bingo! Here's one for the so-called "Mail Foreign Service".
This is of course a complete and utter non-story: most of these grandiose projects never got beyond the drawing board, and those that did were canned for either being too expensive or abject failures when tested properly. Moreover, the CGI stuff is not at all new – after I saw the documentary on the planned Horten Ho 229 "Flying Wing" for the first time on the National Geographic Channel some years ago, it seemed to be on every week. Heaven only knows how many times it had already been shown before I first caught it.
Given that the journalist supposedly saw the documentary on ABC and then goes on to mention "National Geographic scientists", it is highly likely that is was first shown on the National Geographic Channel years ago. Perhaps it was part of the same series that featured the Ho 229 – documentaries that are admittedly entertaining, but as useful as a discussion on the safe preparation of toasted ham and marmalade sandwiches. This guff is less about informing us than it is about having some CGI whizzkid tittilate us with images of massive and frankly impractical machines adorned with pixel-perfect swastikas.
Ah, the good old Daily Mail and their special Nazi/Hitler/WW2 stories desk. They never fail to entertain.