OK, there have been so many Nazi stories being churned out that I have started to believe that it is just too much to write something every time I see an article on the man. Advertising stories, East Asian marketing tactics, civil servants in fancy dress, saluting dogs, Adolf Hitler's sudden appearance on a slice of toast or hot cross bun – the list is almost endless. The Führer must be laughing from the grave: sixty-six years after his death, he is truly the man who just keeps on giving.
The latest story concerns a card game released by a pair of German entertainers-cum-entrepreneurs that features AH among a collection of thirty-two dictators and tyrants – though it is likely that the story would never have carried so much weight had Braunau-am-Inns's most infamous son been replaced with, say, Tony Blair or George W. Bush. Oh no. Once the mustachioed one comes out to play, entire armies of people with nothing better do find themselves engaging in a battle to make the world safe again. From what, God only knows.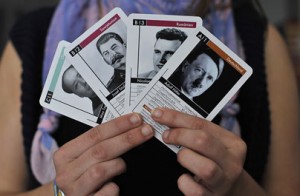 The latest round in this rather odd tale kicked off when a version of the game was to be found at an international toy fair held in the city of Nuremberg – rather apt, one might think – though the product itself has been on open sale for some three years now. Based on the popular German game Quartett – which is a bit like Happy Families although the British press have compared it to Top Trumps – Der Führer Quartett (also called Tyrannen by some sources) was conceived as something of a sick joke in 2008 by its creators Jörg Wagner and Jürgen Kittel. The game soon became something of a hit for those in the know: comedians, the politically incorrect and those small sections of German society whose idea of an interesting game of cards involved pitting good old Onkel Adi against Nicolae Ceauşescu or Idi Amin against François "Papa Doc" Duvalier.
Of course, now that what was little more than a fart in a paper bag has been whipped into a full-blown shitstorm, the rest of the world knows all about it. Thanks to my being pointed to the story by a friend on Facebook, I easily found the company selling the game and ordered a pack for myself. Said friend has suggested that we have a game after a meal of Ersatz bread and water, though I have suggested a more Papa Docesque menu of the finest foie gras accompanied by a bottle of Taittinger Brut Comtes de Champagne Blanc 1999.
Messrs Wagner and Kittel are currently being investigated by the German authorities, not for the non-crime of crossing the boundaries of poor taste but for including a partially-obscured Hakenkreuz on the Hitler card. I am not sure about how far this will go, for as far as I am aware while the original deck may have contained the symbol (illustrated here) the version that is currently being sold online does not. Keine Hakenkreuz, keine Problem!
Of course, should the real fascists get their way the pack I have ordered will jump up in value… Perhaps I should have ordered two of them.