For all the talk about the "credit crunch", the "recession" and so on, there will still be those who will be spending money – usually not their own money, mind – on crackpot schemes and projects. As so it continues with the campaign behind the 2012 Olympics.
Why the long faces? London celebrates 1,000 days until 2012 Olympics with bizarre set of photographs (but no one looks happy about it)
Those who know me will themselves know that I am a massive fan of the Olympic Games; I can very easily become a hermit for the fortnight and a bit when it is on, especially now with the almost wall-to-wall coverage. I do however believe that the ongoing marketing campaign – right from the beginning with the supremely hideous "fellatio" logo – has been a money-sucking disaster. Things are continuing to move away from what the Olympics are all about; it is less about the sport itself but a series of overpriced marketing stunts – in short, an exercise in corporate grovelling.
As for this latest project, one has to wonder how much money has been spent; the photographs aren't even that good.
From prentious photographic tosh we move to high-cost tackiness and the new home of all that is expensive and ugly, Russia.
A chrome Mercedes, fridges wrapped in snake skin, and Hummers with pole-dancing stages: How Communism is well and truly dead at Russia's Millionaire's Fair
One has to wonder what sort of people might buy this hideous stuff, but then you just need to look at your average Russian gangster boss – sorry millionaire, oligarch, whatever – and note how the men nearly always look like pimps and the peroxide-happy women like call girls. Well, either that or they look awfully out of place trying to look like some Edwardian relic. You can take the Russian out of Russia (which is rather unfortunate as many of them are now over here), but you cannot take Russia out of the Russian.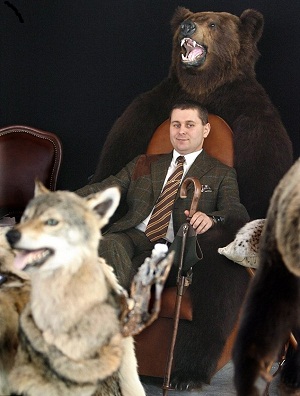 The fellow above is a striking example; it's sort of like a cross between a Communist-era factory worker and Mr Bean, the self-styled porcine Squire of Sakhalin who should really be dressed in one of those itchy blue boilersuits with his face covered in coal dust. One has to wonder how this bull-faced peasant has got to be where he is; guns? Drugs? People? You've got to wonder.
Yep, Ivans. I don't like 'em.