Posts Tagged Czech Republic
Kudos to Czech protesters who armed themselves to the teeth with eggs and pelted them at a bunch of Social Democratic (ČSSD) politicians. If only we could have the opportunity to do the same at the likes of Brown, Hoon, McNulty et al.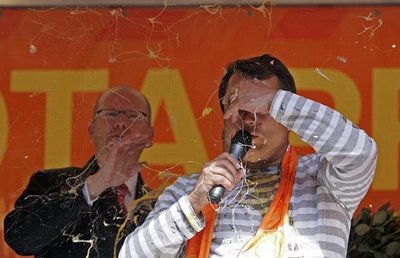 One for the photo albumen. Sozi politicians can't do anything about the barrage of eggs being pelted by the well-organised crowd… Here's ČSSD Chairman Jiří Paroubek.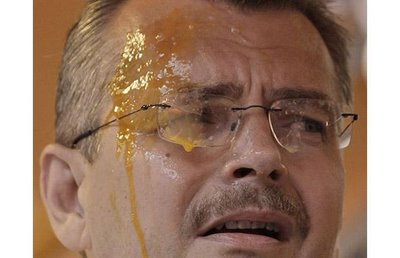 ČSSD Campaign Leader Jaroslav Tvrdík looking more than a little shell-shocked…
Some of the photos are hilarious – and the last one of the stage looks like a massive omelette. I just hope the eggs had gone off.
(Source: Telegraph Online)