Posts Tagged fraud

Some people just cannot escape the headlines, and one such individual is former Metropolitan Police Commander and race-card player Ali Dizaei, aka the "Dizaei Rascal". Now, some of you may remember my last comments on "Criminal Ali", made some two years ago when he was handed his first sentence for his dodgy activities. Read the rest of this entry »
It wasn't that long ago when Texas billionaire and financier Sir Allen Stanford was seen pawing away at the wives and girlfriends of England cricketers during his big-money but ultimately Mickey Mouse Stanford Twenty20 Super Series tournament.
One can never go back to the days of cricket being associated with cucumber sandwiches, cream tea and the genteel witticisms of Brian Johnston, but even the biggest modernist would have been somewhat disturbed at the thought of this rather coarse and brash American trying to influence the global game by throwing silly amounts of money at everything.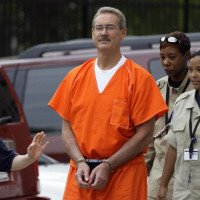 The future's bright… Erm, maybe not.
Today "Sir Allen" (incidentally, the first American to ever receive a knighthood) was seen manacled and wearing the bright orange jumpsuit that has become associated with the inmates of Guantanamo Bay, charged with fraud offences so extensive that the amount being cited (an estimated $7 billion) could probably cover the collective GDP of all of sub-Saharan Africa, and possibly Latin America as well.
I just hope they throw the book at him. Next, Roman Abramovich and the rest of the so-called Russian oligarchs.