Nicolas Sarkozy has this funny habit of making me laugh.
No, not because he is in every way a wannabe modern Napoleon Bonaparte. Not because, like Kim Jong-Il, he wears high-heeled shoes in order to look taller when standing behind a podium. Not because he flaunts his supermodel wife like a fashion accessory.
Sarkozy has it all – he is president of one of Europe's largest democracies, is married to the not unattractive Carla Bruni and gets to live in the Élysée Palace. And yet he still feels the need to play the role of the man who somehow needs to have done everything and been everywhere, even when it makes him look like a blithering idiot. One can only wonder what might have happened had we managed to get Sarko, Gordon Brown and former US President George W. Bush into a room to have a game of pin the tail on the donkey: Dubya would have pinned the tail where the head would go and break into a gurning smile, McBroon would have missed the point of the exercise completely, while Sarko would have waited twenty years to tell us all that he had managed to ride away on what was not a donkey buy a thoroughbred cheval.
Sarko's latest stunt – some would say scandal, though I think it is far too comedic for that – involves his alleged appearance in Berlin on November 9th 1989 which he has shared with the world on his Facebook profile page. Here we see the twenty-years-younger Sarko and a friend chipping merrily chipping away at the Berlin wall – playing his own little part in what was the beginning of Die Wende.
It now has emerged that Sarkozy, then mayor of the Paris district of Neuilly, was not in Berlin at all on November 9th but in Paris celebrating a Charles de Gaulle anniversary; his claim that he was there with former Prime Minister Alain Juppé has also been disputed by Juppé himself, who has said that the pair arrived in Berlin a week later on November 16th. That said, even if Sarko had managed to be in Berlin on November 9th while his double was in Paris he would never have been able to be seen chipping away at the wall that evening; there was little chance he would have made it in time – even if he had a direct line to Erich Mielke at Stasi HQ – and West Berliners only started hacking at the wall on the following day in any case.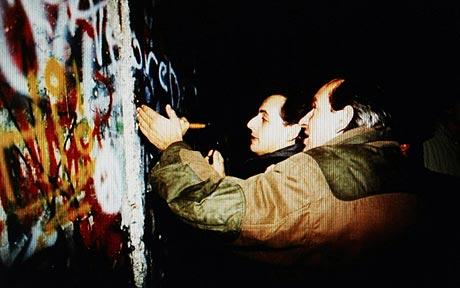 Ah, but Sarko tells us that he had gone through Checkpoint Charlie and had started hacking at the wall from the Eastern side – so what does it matter that the citizens of West Berlin only got wind of things the following day? They were beaten to the punch, donchaknow. Le Supersarko got there first:
"Later, we went to Checkpoint Charlie to go through to the eastern side of the city and confront this wall, on which we were able to land a few blows with a pickax[e]". ("In France, a Clash of Memories and Media", New York Times)
Hmm. Despite Sarko's invented memory suggesting that he and his pals were chipping away from the Eastern side, this is contradicted by the photograph itself which shows the section of wall covered in graffiti. And as anyone with even a passing knowledge of this period of history knows, the graffiti was on the Western side. Nobody – save those who ran the risk of being shot at by the trigger-happy Grepos – got even close enough to daub enough a spot of paint on the eastern side of the ridiculously-titled Antifaschistischer Schutzwall or "Anti-Fascist Protective Rampart", which was as plain and grey as the day it was constructed in 1961.
So what is the point of this exercise? Not content to simply play his presidential role, Sarko has seen fit to buttress this with some cock-and-bull story that he somehow did more – and that he was right in the thick of the action. It leaves German Chancellor Angela Merkel trailing his wake: while Sarko the hero was supposedly rubbing shoulders with the newly-reunited citizens of East and West Berlin, Frau Merkel was heading off after work for her weekly session at the sauna. Which is, of course, far less exciting.
One has to wonder where Sarko will be seen next – rumour has it that he was also seen in Nazareth some two-thousand years ago. Or was it on the moon? Or at the elaborate coronation of Emperor Bokassa I?
I think it is time for some Sarkozy-related Photoshop phuckery-phoo, Forrest Gump stylee… Watch this space!